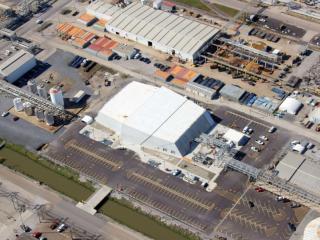 Dow Blast Resistant Control Room
This project was a 100,000 SF two story Blast Resistant Control Room Building which consisted of a control room, laboratory, office space, locker rooms, restrooms, and kitchens.
The building was constructed to withstand a 17.8 PSI blast with a pile supported foundation, 18" to 12" thick cast-in-place tapered and battered concrete exterior walls, cast-in-place concrete columns and elevated structural slabs for the 2nd floor and roof deck.
Included an extensive HVAC, Electrical and Plumbing scope, installation of blast resistant Kalwall translucent façade system, state of the art laboratory equipment and casework with SS lab gas piping, installation of a complex fire suppression systems, installation of perimeter blast doors, and interior elevator.
Interior buildout included top of the line interior finishes, custom made light fixtures, extensive millwork package, custom glass walls and doors, custom stainless steel cladded staircases, multistory cypress feature walls, and decorative concrete flooring.