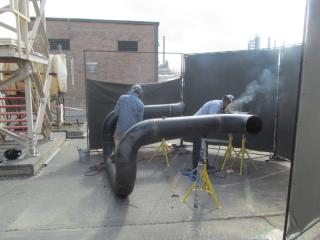 EMPR Chill Water Plant
This project included removing and replacing a chilled water plant for a three-story Admin Building.
The chilled water plant consisted of a new 950-ton water-cooled chiller, which was assembled, lifted, and slid into place by the Moore team in an extremely tight location.
Moore's certified fitters and welders fabricated new chilled and condensing water piping to ExxonMobil specifications.
Moore also installed a fan coil unit to cool the newly renovated Mechanical Room.