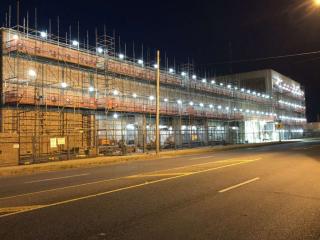 ExxonMobil Baton Rouge
BRCP CPMO & LAB Hardening
The design intent of this unique project was to provide structural steel exoskeleton reinforcement to an existing, occupied, 50-year-old, 4 story office building and 2 story laboratory in order to increase the building's blast/ impact resistance.
Scope of work consisted of selective demolition of existing brick veneer, installation of structural anchor points to the existing building frame, injection of epoxy grout in existing perimeter CMU shear walls concealed by exterior brick veneer, installation of new structural concrete footings/foundations, procurement and erection of over 200 tons of custom fabricated structural steel tube members, demolition and enclosure of existing rooftop observatory structure, modifications to existing roofing systems, upgrades to the existing HVAC system in the laboratory, extensive interior renovations at entryways, installation of exterior metal wall panels, replacement of all perimeter openings (doors, windows, and curtain wall system) with blast resistant alternatives, upgrades to existing fire alarm system and secure access controls.
The project was executed while maintaining full building occupancy and functionality with over 800 personnel, an active laboratory, as well as two active loading/receiving docks. Moore completed the project with over 150,000 manhours worked safely without a single first aid or recordable.