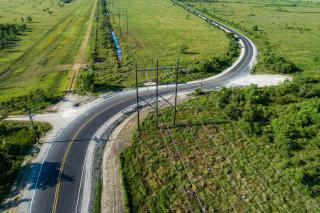 LE2 Road Upgrades
This project consisted of seven and a half miles of asphalt paving, asphalt milling, drainage improvements, reinforced concrete pipe installation, demolition of existing steel cattle-guard structures, installation of pre-cast concrete components, roadway striping, signage, and seeding.
Critical areas of the project included Curve #1 and Curve #9; these locations housed most of the drainage improvements throughout the project. Additionally, Curve #1 and Curve #9 required the installation of base material as the roadway was to be widened at both traffic lanes and have the shoulders reshaped, in addition to the drainage improvements. Five existing cattle-guard structures were demoed and replaced with pre-cast concrete lids that acted as culverts with the existing cattle-guard foundations.
This project won an Excellence in Construction Award in both ABC Pelican and Houston Chapters.